July 28, 2020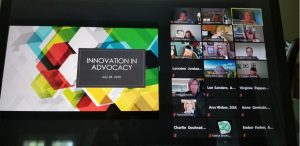 INNOVATION IN ADVOCACY: What innovations have you recently adopted in executing your mission (connecting with Congress/States, partnerships, advocate training, etc.) — [1.5 CAE credits]
Advocacy Directors from 24 leading Association met on July 28, 2020 via Zoom Web-conference for a peer-to-peer discussion lead by Katherine McGuire, American Psychological Association (APA)
Katherine started with an insightful 30,000 ft. view of Association Advocacy and gave the advocacy directors 3 guiding questions to frame the discussion:
Revolution or Renewal?
What societal and ethical pathways are being determined at the moment?
Against what are you inclined to rebel? What has your allegiance?
How do you respond to disruptive information? Tools and tactics?
Katherine also summarized the 8 sub-areas of advocacy that everyone is navigating and the importance of combining multiple advocacy strategies to succeed:
Legislative Advocacy
Judicial Advocacy
Regulatory Advocacy
Industry Advocacy
Citizen Advocacy
Media Advocacy
Diplomatic Advocacy
Political Action Advocacy
Katherine's overview slides are provided as a PDF reference on the button below.
Here were the key takeaways from comments of advocacy directors in attendance:
Covid 19 forcing technology to the forefront.  Never used Zoom before covid.
Successfully transitioning to a virtual conference of 22,000.  Made them rethink completely how they do things, instead of taking what they did before and attempt to just do it virtually.
Seeing innovation as an outcome of these 3 principles:  1) Acceleration (of new ways of doing things),  2) Not overreaching, and 3) Rethink how we do things
One director wrote a Linkedin post about doing virtual flyins and their advantages.  https://www.linkedin.com/pulse/proceed-congressional-fly-in-patrick-atagi-mba/
Our value in advocacy has increased, need to leverage this today.  More important to the industry today than ever before.
What Is the ROI of Advocacy; find a way to measure it and articulate it to constituents.
"Virtual" is working in the short term, but it will still never replace the in-person relationship building that is necessary for long term success
As a practice one person noted that the old fashioned conference call is still well received, esp. with Hill staffers, because they don't have to worry about background image.
Some other innovations during covid 19 included:

Working with other partners on Capitol Hill to get messaging through to Members
Finding ways to tie member engagement and membership value to the work of Advocacy.
Creating a mandate in the association to submit testimonies for any hearing that impacted our industry
Took advantage of more accessibility to the association's members during the pandemic to get them more involved in advocacy.
Making the advocacy platform/resources completely digital and more accessible.
Congressional staff needing subject matter experts more than ever.  Seeing the association as a valuable SME resource.
PACs and using our association members as secret weapons (advocates)
Target Members when they are at home instead of when they are in session in D.C.
DELIVERY METHOD: Group live presented online due to COVID-19
*****
To access Katherine's overview slides in PDF click here: