July 22, 2020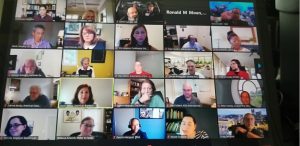 How does your Association maximize the value of systems, data, processes:  Best Practices and Issues
That was the topic of discussion when CIOs and CTOs from 29 leading Associations met on July 22, 2020 for the Presidential Forum Roundtable via Zoom Web-conference.  The peer-to-peer discussion was moderated by Prabhash Shrestha, EVP & Chief Digital Strategy Officer, Independent Community Bankers of America (ICBA).
It was a very dynamic roundtable discussion as Prabhash called upon each Association executive during the meeting to share their current experience with regard to one or all of the following questions:
 What is your organization's biggest obstacle to digital transformation or organizational change in general?
 When implementing system change, do you include an analysis of your people and their ability to adapt to that change?
 How often do you review organizational business process for improvements and changes, and describe the review process you go through?
Without attribution to specific persons or associations, here are some of the important responses which were shared:
Regarding organizational process review, assigned everyone in the organization the task of creating a goal to find a 10% reduction/improvement in the organization.
Many in the organization, particularly non-technical person, are stymied by the term digital transformation, so alternative terminology is used by some associations, e.g., "Office of the Future" or "Desktop of the Future"

One association executive spoke about an alternative terminology for digital transformation which focuses on 5 areas: Team, Talent, Tone, Transparent and Trade-off.
Keys to digital transformation are the five T's according to Achurch Consulting, Rebecca Achurch (everyone loved these, shared with her permission):
Team – you have drivers, strategic thinkers, maintainers, etc.. do you have the right mix of team members to accomplish goals?
Talent – does the team have the talent to accomplish your goals?  What sort of skills development is needed?
Tone – how do you approach the tone you are setting as a leader?
Trade-offs – the trade-offs right now to the great gains many have made during COVID is serious levels of burnout – remember, you can't have everything – consider the cost.
Transparency – there frequently isn't a bad decision just choices. Teams must be transparent because decisions made in the dark rather than the light have the great potential to create conflict. Transparency allows decisions to be made in the light.

The book Focus on What Matters was referenced as a must read (Can answer the questions How does it help with the mission?)
Discussion surrounding how difficult it is to change mindsets –many share the experience that the biggest challenge to change is the "people" aspect.  By contrast the technology piece is easy.
Not all problems are technology even though we build our processes on technology itself.  Still need to focus on the people/culture aspect of digital transformation.  Vendors cannot be expected to do all the work to succeed.
Culture Themes:

Create a more data driven culture.
Covid-19 has made everyone aware that digital is the answer. Now there is an understanding of a Digital 1st culture.
Leveraging data to do things better, smarter, faster.
Virtual has to be an element of everything we do as an association.

About Covid-19 and its impact on the business:

Covid-19 was a paradigm shift and can be leveraged to help association achieve their goal of creating more diverse membership (e.g., millennials, organizations with financial limitations of attending in-person events, etc.).
Covid-19 as a challenge to the archaic ways we have been doing things. Look for the success stories.
Need to have the vision to see how things when Covid-19 is in the past.  Redefine what the office means.  It is still needed based on social nature of humanity.  Digital transformation can help the organization to get back to physical space.

Regarding business process and systems:

Creating a data warehouse outside of the traditional AMS so that the association has better control/ownership of its own data
Creating a data "Lake" – ability to get to relevant data faster
New goal is to facilitate work from anywhere (not just home or office) which means improving/eliminating all paper based systems and discovering how to make systems more agile.
Middleware – integrations as a service – were important.
In addition to the CIOs in attendance, was Craig Dellorso, CEO of Confluence Global, the sole sponsor. Craig Dellorso shared with the group his organization's experience with helping associations on systems integration, AMS implementations, and more recently with creating successful virtual conferences and events using latest virtual event software. The work that Confluence Global does for associations takes into consideration that the biggest challenge is people. Craig challenged the executives to ask  1) what are your people's skill sets, and  2) what is their ability to change.  Taking from his own Naval Academy experience, and the observation that there will likely be some that will not have the flexibility to adapt to [dramatic] change.    For more info how Confluence Global helps associations: https://www.confluence-global.com/    POC:  Craig Dellorso,  CDellorso@confluence-global.com
The Presidential Forum Association CIO Roundtable series was co-founded by Prabhash Shrestha, Group EVP & Chief Digital Strategy Officer, Independent Community Bankers of America (ICBA) and Wade Tetsuka, President, U.S. Transactions Corp.  wadetetsuka@ustranscorp.com