September 10, 2020
Member Recruitment & Renewal: What is your Association's strategy to convert prospects to members — [1.5 CAE or CPE Credits]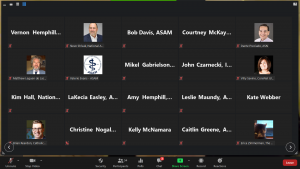 Converting prospects to members was the topic of discussion when Membership and Marketing Directors from leading Associations met on September 10, 2020 for the Presidential Forum Roundtable via Zoom Web-conference.  The peer-to-peer discussion was moderated by Ken Koepper, Director of Membership/Industry Outreach, Textile Rental Services Association (TRSA); and Sarah Lawler, Assistant Director of Marketing, Alliance for Academic Internal Medicine (IM).
The roundtable discussion was both interactive and energetic as Sarah and Ken did an outstanding job, calling upon each Association executive during the meeting to share a project in the respective association related to membership recruitment and retainment strategies. Below are the extensive comments from the survey results, which will give you both the scope and breadth of the conversation.
Survey Results, Membership/Marketing Director Roundtable (September 10, 2020)
Other than converting in-person events to virtual, what have you done this year to increase member engagement utilizing existing or newly implemented digital platform(s)?
• Nonmember newsletter, member testimonials
• Launched year-round engagement app
• Expanded virtual communities
• Produced new content
• Sponsored Town Halls and networking sessions
• Created a new engagement forum
• Offered free CME webinars to members
• Increased our advocacy on behalf of the profession
• Launched a member letter-writing campaign to members of Congress
• Launched a Covid-19 resource page on the website with tips about ways to manage during the pandemic
• Formed a Task Force to focus on our industry's recovery with an eye toward rethinking mobility as we know it.
• Increased communication to leads and lapsed members
• Chat and chews
• Onboard platform
• Webinars
• Mobile app
• Online communities
• Increased online community focus
• Created a COVID-19 community
• Launched onboarding/engagement marketing campaign
• Updated brand language to reflect sense of togetherness
• Always evolving our resources and tools, to deliver a better user experience, as well as capture information on our users and members.
• Society hosted webinar / event Branch (chapters) hosted meetings; webinars
• We have made the effort to convene smaller groups of members around topics.
• We have implemented an engagement platform (Propfuel) that sends messages to our new and existing members.
• Member only webinar series and advocacy efforts (HHS funding, post office delivery during quarantine). Membership to educational
entities.
• Expanded digital programing offerings to support members working on issues created by current events
• Lots of development for a small segment of our membership, hoping to grow it.
• Added webinars, news reports, created committee-like opportunities ( task forces, Industry Town Hall)
• Zoom networking drinks for social/business catch-up. eblast mail shots
• More webinars on the state of the industry and operating business safely, created a COVID-19 Web page
• Increasing education offerings; more use of our member board
• Increased webcasts/webinars
• Created new professional homes for members to prospect/recruit new members to organization
• Expanded existing member-only volunteer programs
• Launched virtual roundtable events for networking/community during COVID-19
• Expanded advocacy engagement through new digital platform
• Free webinars (many on COVID-19), relaunching member community
• Updating on boarding process to make benefits easier to find
• Launched an online community, expanded content on our eNewsletter.
• Micro engagement opportunities
• Increase in webinar programs, enhanced journey mapping, stronger (virtual) community engagement, etc.
• Organized Member-get-a-member campaign
• Plan to implement new Career Center and will promote it as a new member benefit
• Increasing frequency of phone calls and direct outreach to leaders from our membership
• Better marketing automation and remarketing
• Created new content mobile app to provide easy access to content on the go.
• Interacted with members within our members only online community; zoom gatherings with members around specific topics and segements
• Personal phone calls
• New AMS
• New website
• New member orientation webinars
• Pushed out more information via web portals
• Launched new member resource emails & new webinar series on thought leadership beyond converting events to virtual
• One on one outreach calls; calls with our CEO to primary contacts.
• Introduced a Student and Early Career Webinar Series and several recorded presentations for on-demand viewing.
• We have increased our frequency of offering webinars.
How has the pandemic affected your membership renewal strategies or tactics? What changes have you made?
• Opened resources to nonmembers, had to make account, are now sending nonmember newsletter as a "touch".
• Offered free membership to anyone who hasn't been a member before, gained about 3,000 new members in the window it was offered
• Still adjusting…
• We paused our 2020 renewal initiatives for about three months and increased our communication on membership dues waivers for those experiencing financial hardship.
• Staff quickly determined strategies to forestall resignations and implemented them.
• Sending renewal notices earlier to ensure 2021 budgets account for our membership dues.
• Changed tone and frequency of renewal notices (anniversary schedule), provided hardship requests, extended our refund policy, and provided hardship grants.
• For a while we did not do mailings because a lot of physician offices moved to homes and did telemedicine; we which up some strategies like telemarketing because the timing was not right due to the pandemic; we did more electronic tactics than direct mail pieces. We involved our board of trustees more this year for personal outreach…
• Increased messaging about the importance of connecting and being part of a community– even virtually–in a difficult time.
• Personal phone calls have bolstered membership
• Imposed membership discount on dues More flexible grace periods Rewritten renewal messaging
• Prior to the pandemic, we were mid-stream in developing a new sub-class structure, that offers a good/better/best membership, rather determining dues based on an organization's annual sales revenues. The pandemic has expedited our process, and made
us work faster.
• usually paper driven migrating to combination direct mail; virtual annual convention required to be virtual (significant impact on Society, Members, participants)
• We have started to reach out to our membership and nonmembers during their budget planning cycles to highlight the value and importance. We send a billing contact email every year. This year it will include two new questions; do they plan on renewing and are they ok with receiving an invoice via email versus mail. We are beginning to leverage our leadership and membership committee to do outreach to our new members.
• Thinking of ways to engage our members which we are doing and instead of paper invoices all communications are through email right now.
• Delivery to office, pricing, messaging
• We were wrapping up our 2020 renewal campaign when the pandemic hit. We were asked to refrain from sending our final renewal messages to not seem insensitive to our members' financial challenges.
• We delayed suspension for non payment of dues … questioning that right now.
• With 300 member companies and 12 staff, we get on the phone, calling many of them twice. Initially we wanted to learn how they were struggling; now we are starting again, explaining that we are about to bill them for 2021 dues. This differs from a one-touch in years past aimed solely at the lowest-engagement participants
• Many of our primary contacts are working from home we cannot rely on mailed renewal forms/invoices. We have been making more personal contact through email and phone.
• In the short term it was that people weren't in the office. Now it's whether they have the funds to join. We are ramping up our membership marketing now.
• More liberal use of complimentary memberships and discounts
• Membership cycle 2x/year (June, December); delayed the launch of June 2020 renewal messaging; no active prospecting in spring 2020 d/t COVID-19
• No changes
• Implemented installment billing, flexible deadlines
• We are offering to waive any fees, and keep pointing out the ROI on their membership.
• We extended the time allowed for renewals and waived fees for those with budgetary limitations on professional development.
• phone call campaign initiated, decision to limit some activities to members only
• Focus on benefit awareness and peer-to-peer support, opening webinar to larger audiences
• Members have less spendable income to invest in memberships. Institutions are cutting back funding.
• 18 months membership for those who join and register for virtual meeting
• We offered a one-time discount in annual membership dues.
• We had an explosion of communications and advocacy efforts surrounding COVID-19 and used that visibility to reach out to lapsed members and others through electronic communications and simple paper letters with pro-forma invoices attached. The result was the strongest new member growth in recent memory.
• consider different methods for payments- installments, purchase credit towards membership renewal if purchasing virtual event registration.
• Extended renewal deadlines
• Increased messaging; report cards on ROI; lobbying successes (federal); personalized attention; better questions on what members are looking to accomplish
• Yes, now offering introductory/provisional membership to allow the association to demonstrate its value directly.
• more direct outreach – personal phone calls and emails
• We ceased efforts in the spring, and have offered free membership to students for 2020.
• We extended grace for a couple of months but it really didn't have an effect.
We also want to extend a thank you to our sponsor for the event, Chris Yoko and his team of Yoko Co.

CPE Compliance Disclosure:
COURSE DESCRIPTION:
In this course, you will learn how Associations increase member engagement, the renewal strategies being used, and the platforms used, either existing or new.
LEARNING OBJECTIVES:
Learn how to utilize technology tools to increase member engagement.
Learn about renewal strategies to increase member enrollment.
Learn how other Associations are using software platforms to host virtual events, engage members, and increase enrollment.
INSTRUCTOR(S): Ken Koepper, Director of Membership/Industry Outreach, Textile Rental Services Association (TRSA); and Sarah Lawler, Assistant Director of Marketing, Alliance for Academic Internal Medicine (IM)
DELIVERY METHOD: Group live presented online due to COVID-19
CPE CREDITS: 1.5
LEVEL: Intermediate
NASBA CATEGORY: Business Management and Organization
CAE Field of study:  Membership Development
PREREQUISITES:  C-Level Management Experience
In accordance with the standards of the National Registry of CPE Sponsors, CPE credits have been granted based on a 50-minute hour.
U.S Transactions Corp. (CPE Sponsor ID: 138278) is registered with the National Association of State Boards of Accountancy (NASBA) as a sponsor of continuing professional education on the National Registry of CPE Sponsors. State boards of accountancy have final authority on the acceptance of individual courses for CPE credit. Complaints regarding registered sponsors may be submitted to the National Registry of CPE Sponsors through its website: www.NASBARegistry.org.