July 30, 2020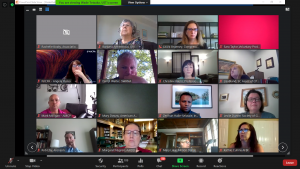 Association Executives from over 100 Associations attend Presidential Forum Virtual Event to discuss the return of in-person Conferences/Events: What is your Association doing for the remainder of 2020 and in 2021. Legal, insurance, and financial considerations
On July 30, 2020, over 100 Association Executives convened for a Virtual roundtable to discuss navigating the return to in-person Events and Conferences.
The peer-to-peer discussion was moderated by Elisabeth Barna, Chief Operating Officer, American Trucking Association (ATA) and Greg Plotts, Partner, Aronson LLC.
Prior to the event, the registered attendee executives were asked to answer four (4) important survey questions about their association's return to in-person events and conferences.  To see the outcome of this survey (respondent's names and associations are kept anonymous), see the Download PDF button at the bottom of this blog.
The 4 questions were:
When is your Association planning its next in-person conference or event? (Month/Year or uncertain)
How many in-person attendees do you expect?
What City/State?
List one or more of your main concerns?
Here were the key takeaways from the peer-to-peer discussion:
Situation so fluid, just in the last week one association decided to cancel the annual October in-person conference in Colorado (orders restricting gatherings to not more than 100 people) to an all-virtual event.  Working on the legal and contract aspects of the cancellation.  Remaining events planned for rest of 2020 have also been moved to virtual only.
Accounting firm Aronson working with a lot of associations to put financial statements together as part of their business interruption claims.
Many indicated that they are still charging fees for attending even though they moved to virtual only.
One association reported that their attendees, exhibitors, and sponsors gave glowing reviews for the all virtual event.  It was important that they did training to the vendors on how to use the event software in advance.
Another association also reported success using a software that had exhibitor sections.
Software used by associations included Intrado and 6Connex.
May 2020 in-person conference was cancelled and they were able to get all deposits back, and flipped to virtual with 1,500 attendees (more than in-person events).
One association is doing more virtual events to compensate for loss of in person events.  They report that sponsors are coming back and they are charging for online content as well.
Executives asked about force majeure clause applicability for their cancelations. Rich Bar attorney from GKG provided excellent guidance on the call.  He also gave some perspective about the business risk which the hotel takes when they try to maintain a hardline about not letting the association reschedule or cancel without stiff penalties.   This was good guidance to help associations with their negotiation.  Rich also discussed concerns from the executives about potential liability to the association if an employee or attendee contracts covid-19 and claims that it comes from being at the event.
Executives asked about insurance for pandemic in the future, and also insurance for virtual events.  Derek Symer and Patti Loftis from AHT Insurance provided guidance to the group's questions to both of these items.  They see insurance for virtual events as being tied to a good cyber insurance policy.
There was a lot of information exchanged by the association executives with each other over the Zoom Chat during the discussions.  Executives shared their event pricing strategies, their different methods of engaging sponsors and exhibitors, virtual networking ideas, and many other thoughts.
Separate to the 4 questions survey mentioned above, attendees were also provided a report of a groundbreaking nationwide survey of Associations on the topic of Event Cancellations caused by covid-19.  This groundbreaking survey was conducted by ORI, Inc. over a 2-month period and provided the audience with extensive insight into how covid-19 has impacted the operations of associations.  You can get more background information about this nationwide survey at: https://bit.ly/2ZeZFOG.  Kathy Benson is the CEO:  KathyB@oriresults.com, Phone (571) 257-3205
Subject-matter experts for the session were attorney Richard Bar from  GKG Law as well as insurance practitioners Patti Loftis and Derek Symer from AHT Insurance,  and Greg Plotts, CPA from Aronson LLC.   Our subject matter experts, well versed in legal and insurance matters related to conferences and cancellations, provided the association executives additional guidance during the peer-to-peer discussion.
Richard Bar is the practice nonprofit specialist and was named to Washington Post Magazine's Washington DC 2020 Super Lawyers List. https://bit.ly/2CO1E4Z.    Rich can be reached at RBar@GKGLaw.com, Phone (202) 342-6787.
AHT Insurance is a leading insurance practice for associations and nonprofits.  Read their latest professional guidance on your transition to virtual events and conferences: https://bit.ly/3i56GKu.  You can reach Patti and Derek at PLoftis@AHTins.com,  phone (703) 737-2234 and DSymer@AHTins.com,  phone (202) 845-8260.
Greg Plotts, Mark Robins, and Rob Eby are partners in the nonprofit/association practice group of Aronson LLC, a leading CPA firm in the Metro DC region helping many associations on their event cancellations and navigating through the economics of covid-19.  More information: www.aronsonllc.com.  You can reach Greg at GPlotts@aronsonllc.com, phone: (301) 231-6226; Mark at MRobins@aronsonllc.com and Rob at REby@aronsonllc.com
******
To see the outcome of the survey, click here:


CPE Compliance Disclosure:
COURSE DESCRIPTION:
The onset of covid-19 has resulted in Associations needing to cancel their in-person conferences and events on short notice.  Some Associations still have in-person events planned for later this year with still a lot of uncertainty about the ability to conduct those meetings in-person.  Learn how Associations are navigating the cancelation or rescheduling of events from legal, insurance and finance aspects.   This course is ideal for Finance, Events, Membership and General management C-level executives of Associations.
LEARNING OBJECTIVES:
Learn what legal issues such as force majeure are associated with short term event cancellations due to covid 19
Learn how insurance coverage plays a role in recovery of losses due to event cancellation
Learn about various financial and accounting implications involved including refunding of registrations, sponsorships and exhibitor fees.
INSTRUCTOR(S):  Elisabeth Barna, Chief Operating Officer, American Trucking Association (ATA) and Greg Plotts, Partner, Aronson LLC.
DELIVERY METHOD: Group live presented online due to COVID-19
CPE CREDITS: 1.5
LEVEL: Intermediate
NASBA CATEGORY: Business Management & Organization
PREREQUISITES:  C-Level Management Experience
In accordance with the standards of the National Registry of CPE Sponsors, CPE credits have been granted based on a 50-minute hour.
U.S Transactions Corp. (CPE Sponsor ID: 138278) is registered with the National Association of State Boards of Accountancy (NASBA) as a sponsor of continuing professional education on the National Registry of CPE Sponsors. State boards of accountancy have final authority on the acceptance of individual courses for CPE credit. Complaints regarding registered sponsors may be submitted to the National Registry of CPE Sponsors through its website: www.NASBARegistry.org.